Ohio Fire & Rescue Officer Development Conference
by the Ohio Fire Chiefs' Association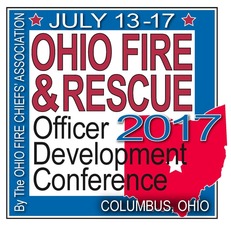 Registration is now open for the 2017 annual conference! Mark your calendars and plan to join us for the 2017 Ohio Fire & Rescue Officer Development Conference, July 13-17, 2017, at the Columbus Hilton at Easton. The theme for this year's conference is Leading Tomorrow's Leaders Today.
The always popular and educational conference draws 500+ attendees and company representatives showcasing 100+ vendors annually.
Below is information regarding the schedule, registration,hotel accommodations, scholarship opportunity, annual golf outing and vendor show.
Schedule
The FINAL schedule is here for viewing. To see what's in store for this year's conference, click...2017 Conference Schedule.
NOTE:
ALL CLASSES QUALIFY FOR HOURS TOWARDS EITHER THE OHIO FIRE CHIEF (OFC) OR OHIO FIRE OFFICER (OFO) CREDENTIALING OR RE-CREDENTIALING PROGRAM.
ALL WORKSHOPS OFFERING CEU(S) MUST BE ACCEPTED AND APPROVED BY YOUR CHIEF.
SESSIONS THAT QUALIFY FOR OHIO EMS CEU(S) ARE NOTED ON THE SCHEDULE.
Please check the conference page regularly and watch for the weekly updates. Share the news with those in your departments and encourage everyone to attend. You won't be disappointed. There are many quality sessions and instructors already scheduled and more are in the works.
2017 Conference Presenters and Course Descriptions Guide
Please refer to the 2017 Presenters and Course Descriptions Guide for course descriptions, dates, times, locations, and presenters' bio for this year's conference sessions. You will find a plethora of quality sessions you won't want to miss!
Committee Reports
Line of Duty Death Response Team Report
Safety, Health and Wellness Committee Report
State Education and Training Report
Registration
You can register for conference by downloading a registration form or register online:
DOWNLOAD
2017 Conference Registration Form
ONLINE
For secure online registration, REGISTER TODAY!
Clothing Guidelines for 2017 Conference Events
If you are attending conference, we thought it would be helpful to provide you with the clothing guidelines for the various daily events. Click here..Clothing Guidelines for 2017 Events for the 2017 Conference Clothing Guidelines. Please adhere to these guidelines.
Hotel Accommodations
Below is the Hotel Group Information in order to book your room for this year's conference.
Hilton Columbus at Easton
3900 Chagrin Drive
Columbus, OH 43219
614.414.5000
Group Name: Ohio Fire Rescue Officer Development Conference
Group Code: OFO
To make your reservation, Click here!
Pre-Conference/Conference All-Day Workshops
In addition to the shorter blocks of education sessions offered throughout the 5-day conference, there will be 3 all-day workshops offered as well. These workshops require a separate registration form and fee. For more information and registration forms for these workshops, click on the links below:
Building an MIH-Community Paramedic Program Workshop
Fire Safety Inspector Continuing Education Course
ISO Public Protection Classification and Using Alternative Water Classifications
Health Screenings
Again this year, OhioHealth will perform health screenings on Friday and Saturday, July 14-15, 2017 during the vendor show at conference. There are two physicians secured to perform skin screenings on Friday, July 14th and they are awaiting confirmation from one for Saturday, July 15th. The lung CO2 monitoring will be available again this year. It was very well received last year. There will also be education on prevention and detection for colorectal, prostate, skin and lung cancers along with a "giveaway" this year for those who get a skin screening and/or lung monitoring.
Click on the link below for the complete schedule and then be sure to visit the OhioHealth booth and get your screenings!
Golf Outing
The annual golf outing will be held at the New Albany Links Golf Club in New Albany, Ohio on Thursday, July 13th with an 8:00 a.m. shotgun start. Cost per person is $75.00 and includes golf, cart and lunch. Corporate hole sponsorships are available for $125. To register, click...2017 Golf Outing Registration Form
Saturday Night Entertainment
Join us for dinner and a show as the Ohio Fire Chiefs' Association presents Tom Watt – The Buffetman & The Fruitcakes! Tom Watt, known to his loyal following as "The Buffettman," has been entertaining his audiences around the U.S. and Canada, Caribbean Islands and the Bahamas for more than 16 years.
Read more...Calling All Parrotheads
OFE Luncheon and Townhall Meeting
The Ohio Fire Executive Townhall Meeting will be held Sunday, July 16, 2017 before the luncheon from 10:15 am to 11:30 am in Juniper A Room. The luncheon will be held from 11:30 am to 1:00 pm. The cost is FREE for those attending the conference and $35 for those attending the luncheon only. To register, click here.
Wine and Canvas Painting Class-CANCELED
Due to low enrollment, this class has been canceled.
This class is being offered on Sunday afternoon as part of the Partners Program. While you're in class, your conference partner can try their hand at painting. No real talent or experience necessary! Attendees will be given step-by-step instructions on how to complete their very own work of art. Read more...Wine and Canvas Painting Class
Vendors
We look forward to seeing you for another stellar trade show in 2017. This is the perfect opportunity for you to get your goods and services in front of those who make the buying decisions in their departments. All the information you need to register for this year's show can be found here. To access the 2017 Vendor Packet, please Click Here.
VENDORS, PLEASE NOTE: The hotel will accept packages three (3) days prior to the start of the event on Tuesday, July 11, 2017. Al item(s) shipped must be marked with the following:
Your Company Name
c/o Chief Tom Wallace
Ohio Fire Chiefs' Association
July 14, 2017